Recently my fiancee and I have begun redecorating our bedroom and PC room, and for us, it is vital that we have little nick nacks here and there to remind people that yes, we love all things Nerdy. Plus, they're really cool and we love them!
So on my quest to find amazing items to add to our room, I've developed a short little list that I think you would enjoy too!
Game of Thrones Lantern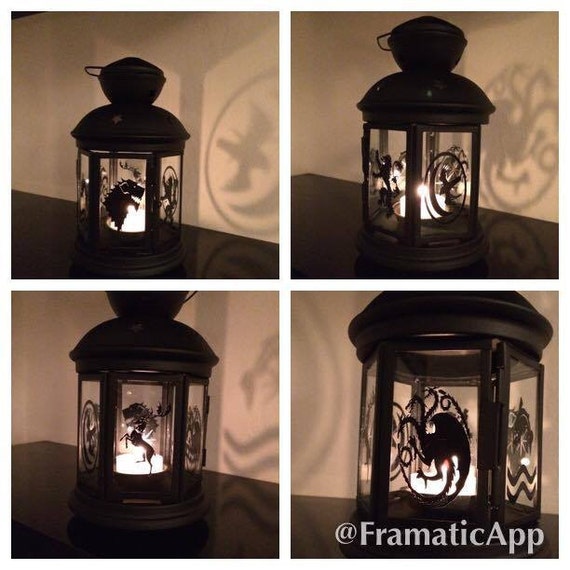 These adorable lanterns found on Etsy are a must-have for any Game of Thrones fan. They're so well crafted and a unique piece for any bedroom that will make it even more special. Plus, the house emblems reflect onto the walls of the room when lit, giving you a wonderful little ambiance.
You can find this wonderful gift here!
Starry Night Projector
I have a soft spot for projectors, and currently, have one that projects an underwater effect on the ceiling which for me is a very cool way to fall asleep. However, for an overall awesome feel to any room, a starry night or a space projector is an amazing way to add something more to your room.
You can find this projector here! You can also find all sorts of projectors for different types of effects pretty much anywhere. I personally would use Amazon.
Light Switch Stickers
Another simple but awesome touch to any bedroom (or gaming room), or any room at all really! You can get so many cute designs that match your Nerdy interests.
You can find these anywhere. I use Amazon and they're really easy to find!
Olde Book Pillow Classics
These beauties are divine and such a great way to add even more to any room. I've not seen many around so to me that makes them a little unique piece and a must have! Plus, for someone who reads a lot, they're just so cute!
These little wonders can be found here!
Nerdy Rugs
To end my list, and after a hard time deciding on what to add to my list, I have decided to give the last spot to rugs. Rugs can make the centrepiece of any room and if you get one that expresses your loves; well it's not just a floor anymore!
You can find these in many places, but I've used ThinkGeek. You can find this specific rug here!
Any Questions or Comments?
I would like to know what pieces you cherish and are most proud of in your rooms! Do you have a special item or even a collectable that maybe you think others would also like?
Feel free to leave a comment!
All Images used in this post were taken from Amazon, Etsy and ThinkGeek to show off their wonderful products.